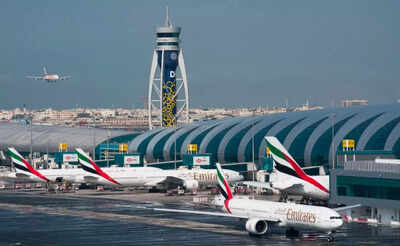 UAE has issued fresh conditions for allowing Indians to enter
NEW DELHI: Indian citizens will now be allowed to visit the UAE on tourist visas if they have not been in India in the last 14 days, according to Dubai-based low cost carrier flydubai. The visitors will need to follow all other pandemic-time requirements.
"Passengers carrying passports of India, Nepal, Nigeria, Pakistan, Sri Lanka or Uganda with tourist visas can be accepted if they have NOT entered or been in India, Nepal, Nigeria, Pakistan, Sri Lanka or Uganda in the previous 14 days. PCR requirements will be based on the country of departure," flydubai website says.
The UAE has been slowly opening up for Indians after imposing restriction on travellers from here in April-end at the height of the deadly second Covid wave. In the past few weeks, it has been gradually allowing more categories of visitors from India. However, since entry rules keep changing frequently during Covid, visitors need to check the latest regulations before they plan a trip these days.
Indian citizens with a valid US visa/green card or having a residency of UK/EU are now be eligible for UAE visa on arrival. The visitors will need to follow all pandemic time requirements for travel.
From earlier this month, it allowed holders of valid residency permits who got both the jabs in UAE to return from India and five other countries. Irrespective of their vaccination status, it allowed healthcare workers like doctors, nurses and technicians employed in UAE; students and people working in UAE education sector; humanitarian cases with valid residency permit and those working in government agencies there, to return to the UAE from India.
UAE is the biggest overseas destination for Indians.
FacebookTwitterLinkedinEMail